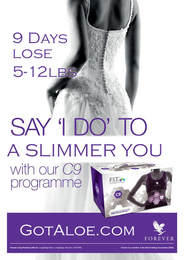 How To Lose Weight Fast Before A Wedding or Photoshoot.
I love and use
Clean 9
, a natural detox system that helps lose those extra inches to help fit into the dress you want. A lot of brides share their concern with me about weight loss. They want to look their extra best on their wedding day. I have found no better system that helps lose fatty inches fast, easy and without a guessing game.
The awesome benefit from doing the program is glowing, firmer skin on the face and body! Perfect preparation to make you gorgeous and healthy.
My goals and results. That's why I recommend it.
When I do
Clean 9
, my goal is to first and foremost get my body healthier. Detox from any pesticide, leftover stuck-on foods, and clean out any other chemicals or unfriendly microbiological life. Goal number 2 is to burn unwanted fat - AKA fatty layers! Last time I did this program I also got my legs looking exceptional - legs got slimmer and cellulite was gone. I noticed it when I looked at my legs sitting down, there was no uneven texture! Imagine being more confident and happy with yourself on the beach or wherever you are on your honeymoon. And the ultimate results I experienced.. DRUM ROLL... 9 lbs down in 9 days, and 2 inches off waist! So fitting into that slimmer dress is magically solved!
What To Expect
Results are not the same for all, but if you follow the program without cheating, you will have results that you will love. In my experience and recommendations, brides as well as grooms have lost from 5 lbs to 20 lbs in 9 days. The more there is to lose the higher the number tends to get.
Why You Will Love This Detox Program
I would NOT recommend the program a week before the big event and photoshoot. But if you are planning ahead of time for the event, I believe
Clean 9
is a must. Unlike the yo-yo water weight losing diets this actually sticks around, gives more energy and for many improves the digestion which helps keep losing weight after the program. The other cool benefit of the program is it helps build collagen in the body which prevents sagging skin and instead tightens it! It is all natural too. Any questions reach out, I have done it as well as my brides! 1.732.331.8862